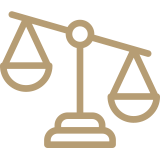 Cattanach Hindson Sutton VanVelhuizen LLP Can Assist with Administrative Tribunals/Small Claims Court
Administrative tribunals were designed to try and create a simpler legal process so that a layperson would not necessarily have to hire a lawyer.
However, as the issues and financial consequences at stake in matters before administrative tribunals and Small Claims Court become more significant, it makes sense to consider hiring a lawyer to assist you in the process. We offer services for Small Claims Court matters, select Provincial offences, Committee of Adjustment matters, the Landlord and Tenant Board, the Human Rights Tribunal of Ontario, and various other administrative bodies.
Services include:
Landlord and Tenant
Planning and Development
Ontario Small Claims Court
Human Rights Tribunal of Ontario
Provincial offences